Did you see what SERENE co-founder Millana Snow had to say about meditation on Well+Good this week? We're delighted and grateful to share the info below, just in case you missed it. Also, be sure to stay tuned for our next Dip Into Bliss meditation with Donna D'Cruz at Soho House!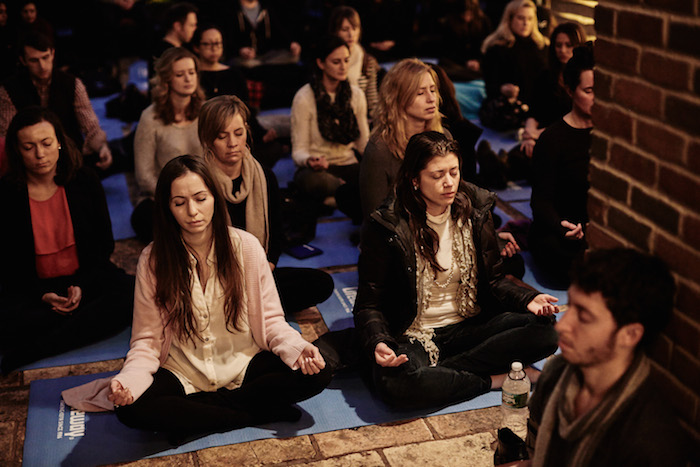 Meditating with Deepak Chopra at The Refinery Hotel. (Photo: Cody James Photography)
On a Thursday evening in January, a long line of young professionals snaked through the lobby of the trendy Refinery Hotel towards the elevator that led to the Rooftop, where chic New Yorkers generally gather to sip cocktails beneath the shadow of the Empire State Building.
On this night, however, as they spilled out onto the roof, people found mats on the floor, kicked off boots and stilettos, and set about figuring out how to arrange their leather leggings and designer skinny jeans into approximations of lotus position.
The event was a guided meditation with famed author and spiritual guru Deepak Chopra, hosted by Wellthily, and the swanky locale and crowd filling the packed room was one manifestation of meditation's expanding place in popular culture, especially in urban centers like New York City and Los Angeles.
"Younger people are doing it, professionals are doing it, people on Wall Street are doing it, doctors are doing it," said Chopra, in an interview after the event. "It's almost mainstream now."
Like yoga's similar transformation from "weird hippie habit" to standard American past time through the '90s and early aughts, meditation is becoming a trendy—and in many cases, normal—practice among 20- and 30-somethings.
The new meditators
"When I first started Serene a few years ago, nobody was interested in meditation. I would say 'Let's do a cool event!' and nobody thought it was cool," says Millana Snow, 27, a Project Runway-winning model who founded wellness-minded young women's membership clubSerene Social, with groups in New York City, Los Angeles, and London. "Now, we do meditation with Donna D'Cruz, who's an amazing mediation guru, at Soho House. We have it once a month, and it's almost always full."
Like the crowd at the Refinery event, many of the women in the classes are young professionals, who Snow says are mostly "entrepreneurs or in the entertainment industry." And similar communities exist around pop-up meditation groups like The Path, which recently hosted a Fashion Week event for industry insiders at Caravan Stylist Studio and was described as a networking fest by the New York Times, and Center of the Cyclone, which hosts classes in art galleries and at the Botanical Gardens. In LA, there's the new studio Unplug, which is often referred to as the "SoulCycle of meditation."
In all of these places, and at home, young meditators are finding a new kind of clarity amid their 20-something worlds filled with long hours and long nights. "I really try to get it in at least once a day for about 20 minutes," Snow says of her own practice. "I've become just more clear. My brain is a lot more open to bigger ideas…my body is more relaxed."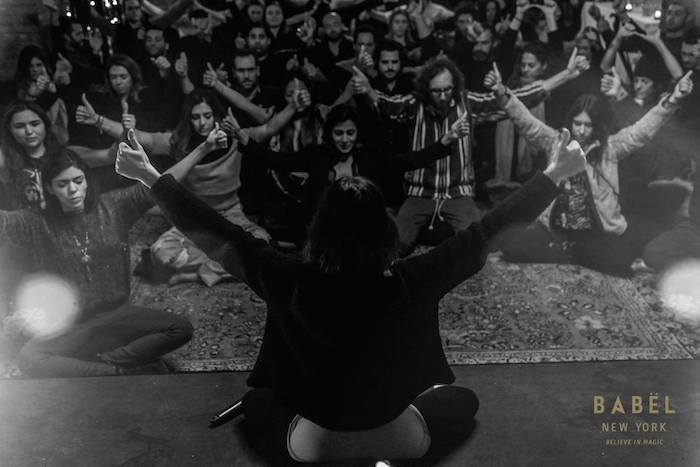 A meditation event at The Bowery Hotel in December 2014, hosted by The Path, in partnership with music and event production company Babel. (Photo: Facebook/The Path)
Why stillness is in
So how did meditation go from being a fringe idea to a mainstream activity? "Fitness is a hot topic, but there's also a general lean toward more holistic health. It's not just your mind and your body, but also your spirit and integrating and balancing those things," Snow observes. "I think meditation is the next layer of that."
Experts agree. Modern spiritual teacher Gabrielle Bernstein now weaves meditation into almost all of her teachings, and renowned yoga teacher and author David Romanelli (AKA "Yeah Dave") recently shifted his focus to teaching meditation, via an app and a new book, Happy is the New Healthy. Both are making the practice accessible to modern young people in new, exciting ways.
Of course, meditation has a celebrity stamp of approval, too. Wellness influencers like SoulCycle's Stacey Griffith and chef-personality Candice Kumai were at the Refinery event. Arianna Huffington and Kobe Bryant discussed their "practices" in Sunday Styles, and stars from Katy Perry to Demi Moore are vocal about how they get their om on.
Chopra also cites the growing body of research on meditation's incredible impact—from studies on how it affects the brain to how it may change gene expression—as a reason for the growing interest. In the end, though, he says its popularity is probably more born out of a real, of-the-moment need.
"We're living in a very distracted society. There's so much multitasking," he says. "People are recognizing that meditation, and other things like yoga and breathing awareness and mindfulness…they help you tackle stress, but they also improve the quality of your life." In short, he says, "Society needs it more than ever." —Lisa Elaine Held
Originally posted on WellandGood.com.
-Feature Art by Sumner Dilworth