New York City mom Michelle Carrera and her 4-year-old son Ollie are on a mission to feed the city's homeless with vegan chili. Determined to impart a sense of community in her son, Carrera also realized that there were very few, if any, vegan options for the city's homeless. Chili on Wheels was born.
"It all started with Ollie because I wanted to teach him about community and helping others," Carrera told AM New York. "This type of outreach can help teach children that it's not weird or exotic to help people in need. If they learn from a young age, hopefully it will stick with them as an adult."
Not only does Ollie enjoy spending time with his mom while providing this great service, but he likes to connect with the people too.
"He also has shown great initiative," says Carrera, "He takes care of handing out the waters. If we approach a crowd, he puts his math skills to use and counts out loud to get the right amount of bottles. We talk a lot about helping others, helping animals, helping people. If asked 'What's your purpose?', Ollie replies 'To be a good guy.' "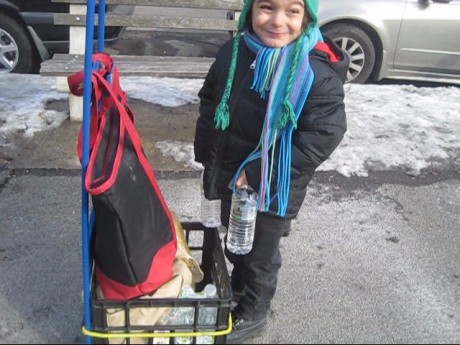 But Why Vegan Chili?
Carrera says the idea just made sense; chili was a natural fit "because it's warm, which is something needed in the streets. It's filling and satisfying," she told One Green Planet. And, of course, it's quite portable.
Carrera and Ollie also distribute bottled water, something that's not as common on the streets as it has been in the past. With very few public water fountains available and bottled water selling for as much as other bottled drinks these days, homeless people often go thirsty, or spend whatever money they can collect, on meals.
After starting out in the Kensington neighborhood of Brooklyn, Chili on Wheels is now also serving homeless people in Lower Manhattan areas, including Union Square and Tompkins Square Park. Now, Carrera is raising funds to keep the program going.
The current operation includes insulated bags and a wheelie cart to tote the chili and water around in. In addition to funds, Carrera says they need more bags and another 24 quart cooking pot. Carrera also says she could use some volunteers to help keep the program going.
"Now that we will expand our service to include a stationary table in a park, in order to serve the people who may be hungry but not necessarily homeless, we need help to distribute the chili," she says. "We also need people who know about all sorts of things, and who are passionate about helping others. Social media gurus, website designers, grant writers. We are building this from scratch, and all we have is the passion to be of good for the planet, to build a just world for all beings."
Originally posted on OneGreenPlanet.org.
-Art via Chilis on Wheels Facebook