Dirt Candy, the popular East Village vegetable-focused restaurant, finally returned this month in a new, bigger space. Partially designed by owner, chef and comic book artist Amanda Cohen, the new location on the Lower East Side will seat 60, as opposed to the previous 18. Read on to learn more about what to look forward to at this spot!
By Lori Zimmer -
After closing the doors to its East Village space last year, chef Amanda Cohen's award-winning vegetarian oasis, Dirt Candy, reopened at a larger location at 86 Allen Street. Known for its menu of imaginative veggie-based dishes, the herbivore favorite made the move from its tiny EV spot to accommodate even more eager diners. The new Dirt Candy has started taking reservations, and welcomes guests with a brand new menu and full bar.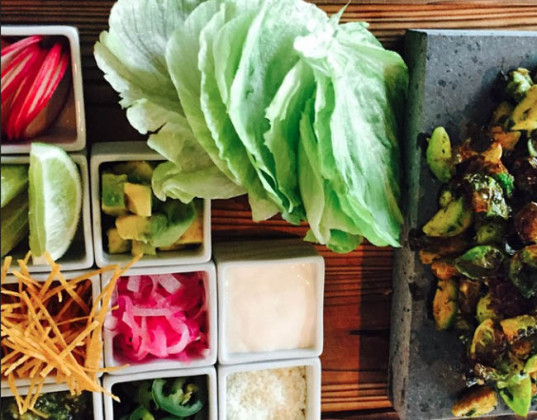 Fans may remember Dirt Candy's East Village haunt, a cute but tiny space on 9th Street that could only accommodate a few diners at a time. Cohen's new space is quite the opposite – sprawling and airy, with an open kitchen that lets visitors watch the city's best vegetarian chefs in action. Decked out in a clean black-and-white color scheme, the new Dirt Candy is suitable for a crowd of hungry herbivores to eat in style.
Related: Step Inside NYC's Greenest Pizza Restaurant
The name Dirt Candy refers to delicious root veggies that grow in the ground, and the restaurant's new menu will continue to celebrate the diversity of fresh fruits and vegetables. Some new dishes Cohen has been sharing on the restaurant's Instagram include Mapo Eggplant with Water Chestnut, Yogurt-covered Turnips, Corn Flour Dim Sum Huitlacoche rolls and Fried Taro Dumpling.
Aside from being kind to the Earth, Cohen's new restaurant plan will also be kind to her employees. Firstly, each starting employee, from dishwasher to cook, will make, at minimum, $15 an hour. Her tipping system is also modernized and will benefit all of the workers: rather than allowing guests to tip at will, each check will have a 20% administrative fee added to it. That 20% acts as a pooled tip, and will be distributed among employees.
The new spot is already open and ready to go, with plans to expand to dinner 7 nights a week and then of course, brunch.
Originally posted on inhabitat.org.