There are several non-toxic cleaning brands to know about, when you're unable to create your own all-natural cleaners (like these three simple DIY laundry detergents!). Many are environmentally-friendly and made from plant-based ingredients for safer scrubbing. Moreover, they're effective and will help you keep your home spotless. Read on to learn about eight better-for-you brands to add to your shopping cart.
By Molly Gallagher -
You care about the ingredients in your beauty products and nutrition bars, and whether or not your produce is coated in pesticides. So why are you still filling your home with toxic fumes every time you clean the bathroom?
When it comes to nasty ingredients, products made for scrubbing and sanitizing are some of the worst offenders, and they're also more difficult to vet. "There are no regulations that require ingredient labeling for cleaning products, unlike food and cosmetics," says Johanna Congleton, a senior scientist at the Environmental Working Group (EWG) and author of the organization'sGuide to Cleaning.
To make it easier for you, we washed dishes and wiped counters with all kinds of products to identify some better brands we think you should know about.
Many of them have cool founders and pretty packaging—and they all actually work (these aren't DIY blends of baking soda and vinegar that everyone raves about but somehow never fulfill their spic-and-span promises). Very few are perfect when it comes to truly "clean" ingredient lists, but they're all a serious step above inhaling formaldehyde (seriously!) every time you open that can of Comet.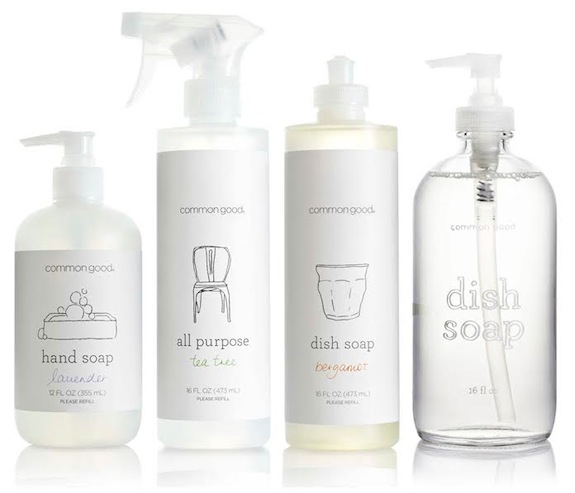 Common Good
For the chic-and-healthy Brooklynite
Sacha Dunn co-founded Common Good, the healthy household cleaning brand, with her husband Edmond—and the duo wins the award for chicest packaging and simplest formulas. (Products include as little as three ingredients, which is unheard of in the cleaning aisle.)
"Once we started looking into [other] formulations, we realized there were hidden things we weren't happy about like dyes and synthetic fragrances," she explains, about her inspiration for the line. Common Good's products are good for the planet, too, since you can refill the glass bottles at shops in Brooklyn and Manhattan.
While the indie brand is most accessible for New Yorkers, the products are also available at West Elm, on Soap.com, and will soon be sold on Freshdirect.com.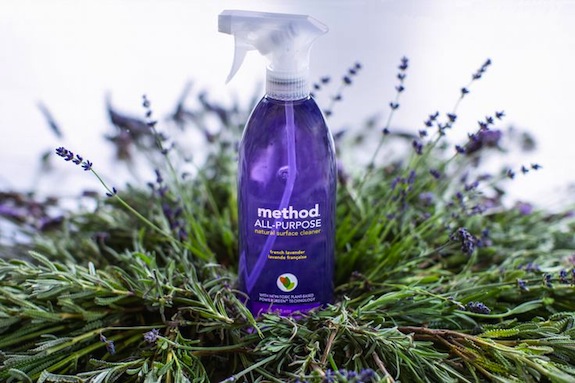 Method
For non-toxic newbies weaning themselves off Scrubbing Bubbles
Created in San Francisco in 2000, Method's line is a staple at Target stores across the country and you'll likely recognize its popular tear-shaped hand soap bottles. Its products are a great alternative to serious ingredient offenders like Scrubbing Bubbles since they look, feel, and work like more conventional brands (and they're one of the more affordable options).
Method is known for making products that are good for the environment—all of them are independently reviewed and certified by eco-label Cradle to Cradle—which means they're generally better for you, too.
The company maintains a detailed ingredient glossary on its website that provides definitions and explanations for 113 ingredients, and while they do list the sketchy ingredient "fragrance" (a labeling loophole where bad things can hide), a rep from the brand told us "all fragrance materials must be shown to be non-irritating, non-toxic, and non-allergenic, and must be fully biodegradable."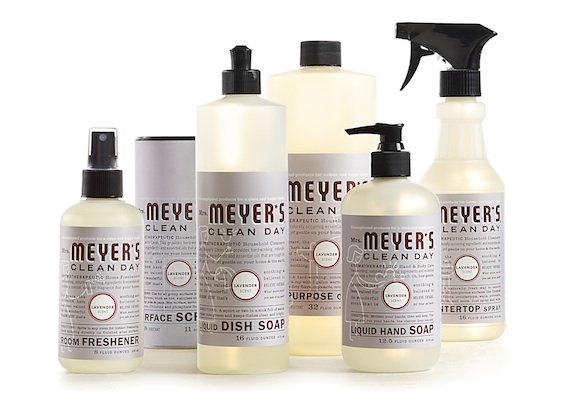 Mrs. Meyer's
For the mostly-natural, convenience seeker
If you've ever been to a hip restaurant, taken a class at a boutique fitness studio, or shopped in a grocery store for that matter—you'll recognize Mrs. Meyer's products.
The company makes essentials like dish soap, toilet bowl cleaner (which I found to be really effective, without reeking of bleach), all-purpose sprays, and more, in fresh, flowery, modern scents like geranium, basil, and lemon verbena.
The formulas are pretty clean ingredient-wise and are printed clearly on the bottles (transparency, yay!). Mrs. Meyer's does list "fragrance," but says it's made with a combination of essential oils and "safe synthetic fragrance materials."
Major plus: The products really made my test kitchen (and bathroom) sparkle.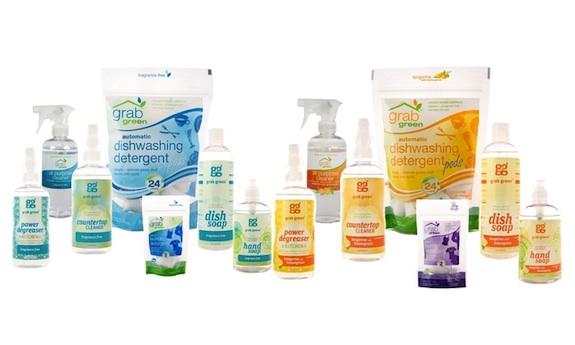 Grab Green
For the fragrance averse
When conventional cleaning products weren't making Patricia Spencer's kids' allergies any better—and weren't even leaving her surfaces clean—she decided it was time to start her own brand.
Grab Green's line includes all-purpose cleaners, glass cleaners, detergents, dish soaps, and more, and they're all on the affordable side, with full ingredient lists available on the website.
The real draw: They have a fragrance-free collection for the scent-sensitive—or for those who just like to get their pads as clean and natural as possible.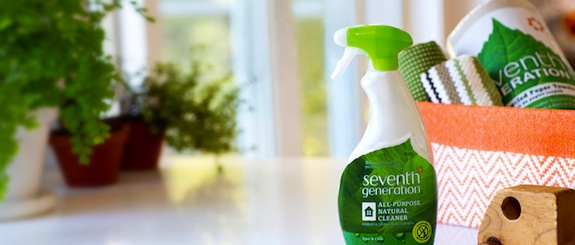 Seventh Generation
For the eco-conscious cleaner
Seventh Generation is like the grandfather of natural cleaning brands. It was founded in 1988 and eventually grew to become a multimillion dollar company by making recycled paper towels, plant-based dish soaps, and chlorine-free bleach—all packed with biodegradable or recyclable materials and made with a minimal carbon footprint. (It probably doesn't hurt that company recently received a $30 million investment from Al Gore.)
The takeaway: It's affordable, makes every kind of product you'd need, and easy to find, which is rare when it comes to products that are good for both you and the environment.
Originally posted on WellandGood.com.
- Art via Common Good, Method Home, Mrs. Myers, Groupon, Seventh Generation, We Heart It