Do you ever daydream about living in an EarthShip? There are so many reasons why these sustainable homes are awesome. The inspiring designs of their greenhouses are just one of them! We've discussed simple and affordable DIY greenhouses before, but today we're taking a peek at what has been dubbed the greenhouse of the future!
Originally posted on Collective-Evolution.com.
Earthships are a recurring theme here at Collective Evolution and for good reason.  They are an exciting alternative definitely worth exploring. It is because of this that we at CE are very excited to share with you a documentary and supplementary package that gives you a comprehensive step-by-step guide on how to build your own sustainable greenhouse.
Thanks to the incredible work of Curt Close, Anaconda Productions and SolutionEra – in collaboration with theValhalla Movement -we are happy to announce The Greenhouse Of The Future: Abundance And Energy Autonomy. The DVD, EBook and Plan Package which are all available for purchase now.
SPECIAL SPRING/ SUMMER SALE DISCOUNT: Purchase the Greenhouse of the Future package now to save 10% on the final price. Enter PROMO CODE: spring2015  to activate the discount!
Check out the trailer to get a feel for this unique and instructional package:

Excerpt from the DVD Box:
The DVD and EBOOK "The Greenhouse of the Future" outlines the design and step by step building of a radically sustainable passive solar greenhouse built from up-cycled materials and operating using fully renewable natural energies. By building this greenhouse with your community or your family, you will contribute to a healthier and more sustainable world, reconnect with nature, save money and produce your own local organic food all year-round.
We at CE have watched this documentary and feel that it is the most comprehensive guide available to help us all actively be a part of changing the way we grow our food. Click on the image below to get more information and purchase now!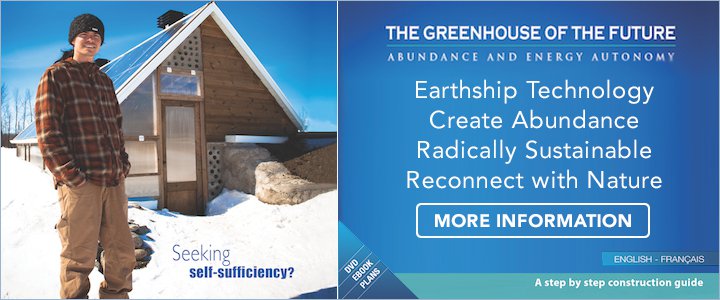 ---