Date/Time
Date(s) - 07/17
8:00 am - 9:30 am
Location
Coq d'Argent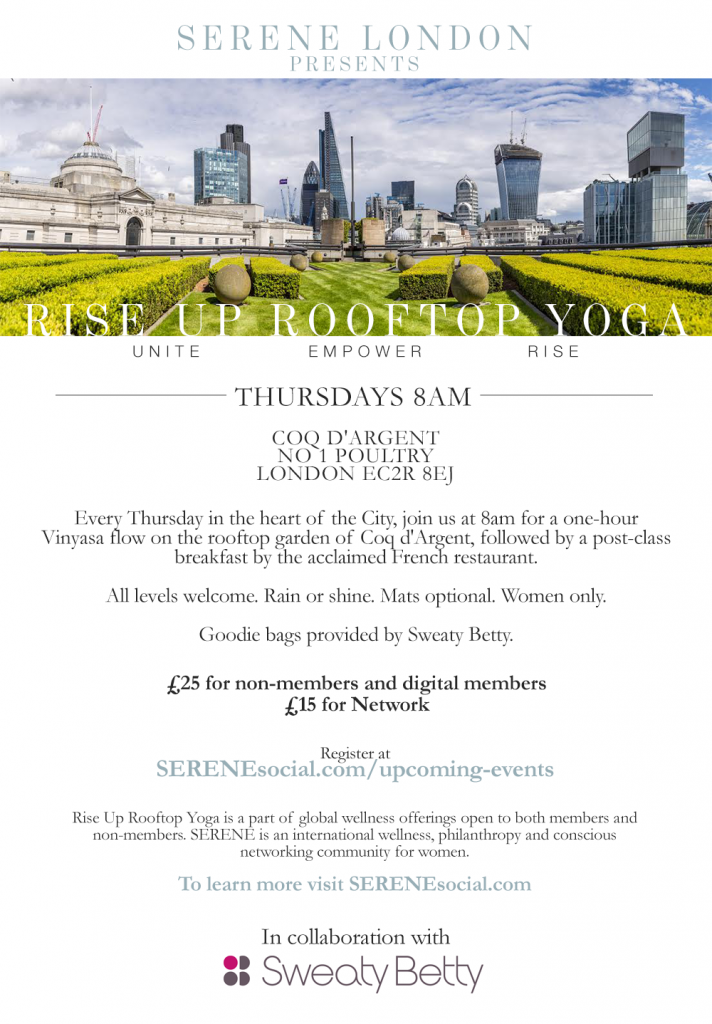 SERENE's international rooftop yoga series touches down in London, hosted by chapter leader Leslie Saglio and led by a line-up of special guest yoga teachers. Every Thursday at Coq d'Argent, join us at 8am for a one-hour Vinyasa flow and a post-class mingle and breakfast by the acclaimed French restaurant.
This class is taught by:
Prior to Yoga becoming my main focus, (10 years ago, God!… that went fast!)  I had a career in media. Working for BBC and CNN as a TD/News Director, but I burned out, as many do. There is only so much shouting and being angry at a screen anyone should do, in a lifetime.
I decided to follow in my mothers footsteps and teach yoga because I had always used it to stay sane and love it, it makes me happy in my skin and I that is what I want others to feel too.
I think there is a lot wasted energy in yoga, trying to make things look a certain way externally, when what really needs to happen is on the inside. So I offer a space to drop away from the judgements and grasping mind, and just play like a kid again, fully embodying the moment, with playfulness and pure joy.
Bookings
Bookings are closed for this event.