This past Sunday morning I set out to take my first aqua cycling class at Aqua Studio in TriBeCa, which is the "First and Only Cycling Studio offering classes in a pool" in NYC and in the states. The owner of Aqua is Esther Gauthier, a member of SERENE who has been coming to rooftop yoga at The James every Thursday and has had me absolutely intrigued with the idea of taking a spin class under water. So with great excitement and a little nervousness I met with Esther and her friend Jane for a class!
Upon entry, I was already impressed with the studio. The space is a large, lofty, beautiful and clean space that was full of light and friendly smiling staff. I was even more impressed when I walked down the stairs and looked over into the pool area! Everything was dimly lit and beautifully designed with a very minimalist, yet cozy feel. The pool area really had me in awe as I had never even thought there was such a thing! Ester told me that aqua cycling was all the rage in Europe, and I could already see why.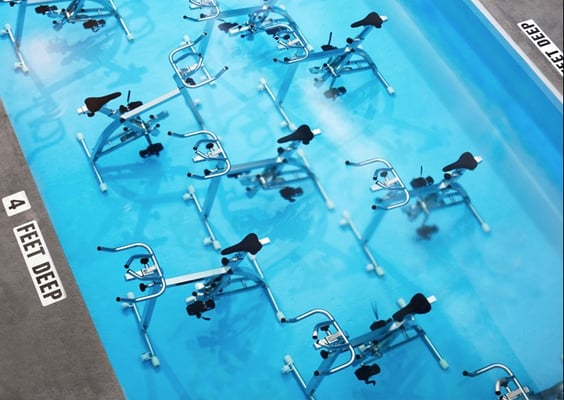 I love swimming and water, but I was a little nervous that the water would be too cold or overwhelming. It was quite the opposite, luke warm, crystal clear and only 4 feet high! Once getting set up on my bike by the lovely instructor Krystal Kay, I was on the bike getting my feel, I already knew that I was going to get a totally different work out because you cant really feel your muscles working as you pedal… a misconception, I was sure I would feel hours later.
Class began with a warm up as expected and after about 20 minuets transitioned into a great arm work out with hand paddles which was at first harder than it looked when we got into "position 4″, which is essentially behind the bike floating with your legs wrapped around the bike while your hands keep you afloat. It was around this time our instructor had us slow down and enter into a moving meditation. With the lights low and a beautiful song playing in the background I started to focus on my core body and inward into my mind. Here I realized that although there were great physical benefits, there was also a great benefit for my mind and spirit. I was getting all these great ideas and positive thoughts, I could have sworn that I was even floating higher as I did! If you are anything like me you get ideas in the shower ALL THE TIME! I had a feeling that, taking an early class at Aqua would promote more of these high vibrational thoughts… or from a scientific point of view high Dopamine thoughts.
After the about ten minuets in position 4 we moved back up onto our bikes for the hardest part of class and rode it out for another 15 minuets. Then to close the class we all took a few minuets to stretch and then slowly made our exit for the next class. Stepping back up and out of the pool definitely felt like I had just landed back on earth from outer space. I have to say, this was by far the most unique workout that I had in some time. I look forward to going to more classes and hope to announce a unique SERENE experience at Aqua soon!!
Want to take a class at Aqua? Go sign up for a fun class with Sweaty Betty next week! I hope to be there in the evening and would love to meet you all!
Until next time-
Millana
The SERENE Diaries are all about the SERENE Lifestyle, a beautiful mindful life centered around holistic wellness, adventure, an uplifting community and expansion of the mind, body and spirit. Follow the SERENE team as we delve into the SERENE Lifestyle.