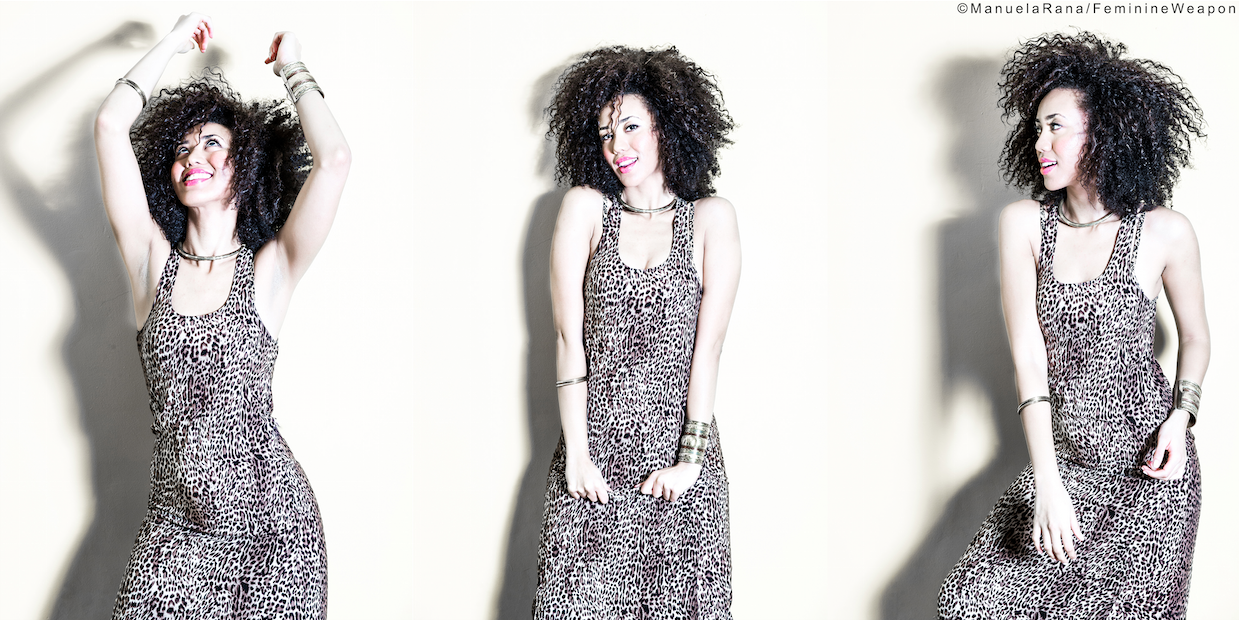 Feminine Weapon shoot with Millana Snow in Harlem.
With her shock of curly hair and long legs it's easy to see why Millana Snow was crowned winner of Project Runway's modeling competition. But behind her beautiful face is a woman constantly in pursuit of knowledge who actively seeks to grow emotionally, spiritually, and intellectually. Through her company, Serene Social, Millana is helping other women do the same.
As the daughter of a hotelier, Millana moved frequently between Denver, Boulder, and Houston. That transient lifestyle allowed little time for creating lasting friendships so Millana turned to books. She took an especially keen interest to religious books – after all there's a Bible in every hotel room – and began educating herself on all the world's religions. Though she doesn't consider herself religious, Millana believes in the lessons of the Bible and believes strongly in the Abraham-Hicks law of attraction. "If you seek that knowledge, or God or the Universe, it seeks you. If you seek spirituality, truth, or magic, those things will come to you," she says.
At eighteen Millana booked a ticket to New York to expand the modeling career she'd begun in Houston. Initially, the five day trip was a trial run but Millana instantly felt at home. In the years since Millana has worked at Uptown and Vibe magazines – working at Vibe had always been a dream of hers – and continued her acting and modeling work while finishing school. Millana was on track to build her career at Vibe until a fateful casting for Project Runway changed all that. She spent the summer filming – which meant quitting Vibe – and won the modeling portion of the competition. From that success she began booking more work and continued modeling, acting, and serving as host of The Vagabond Project, a Webby award-winning travel show.
Over time Millana got the urge to do more than just modeling: she yearned to awaken the businesswoman within her. After reading The Power of Intention by Wayne Dyer, Millana was inspired to focus on her new intention of starting a business. While at a yoga class she had the vision of doing a woman-only rooftop yoga class. She floated the idea to The James Hotel and seemingly overnight Serene City Retreat was born. The classes were a hit and garnered rave reviews – but Millana knew her company was meant to be more.
In late 2012 Millana met her business partner Erin Ralph. Together they've taken Serene City Retreat and morphed it into Serene Social, a community for women. "Women are becoming really successful now. There's always been these good ole boy clubs where men sit around smoking and drinking and not caring how the business decisions they make impact people in a real social, emotional, spiritual way. Women have a different view of the world. We have an innate need to support people in a more nurturing way. We wondered, how can we harness that in a city like New York where there's so many of these women? That's why we created Serene Social, it's a community of women that are empowered and united and building something together that can change the world." Millana says.
Serene Social offers a multitude of events, from the "Heal Yourself" workshop which combines mantra, breathing exercises, yoga, and Reiki, to the three-sixty talks which are similar to Ted Talks but by women for women. It's not all serious though. One recent event was a life-drawing class which had participants drawing a very attractive – very naked – male model.
In 2014 Serene Social will expand to Denver, LA, and London. In addition to in-person classes and events, Millana and Erin plan to expand their online hub and hope to unite more women internationally through that medium.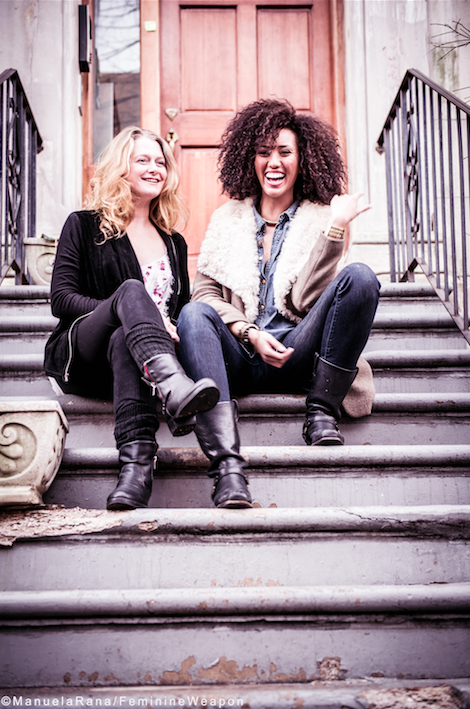 —
This interview is part of the Feminine Weapon Day photography series. Feminine Weapon Day is January 30th and has been designated to Honor Your Conscious Light + Beautiful Self.
Join us at The Cutting Room (44 East 32nd St.) at 6:30 for the photography showcase and Creeds of Love Pop-up Shop, 8p for concert with Margot B. (Boardwalk Empire), Nancy Danino, Syndee Winters and Dilia Jelen, and/or 10p for the Afterparty show with Coyle Girelli from The Chevin.
Tickets available at: feminineweaponday.com
—-
Author A.E. Fairfield (aka Ashley) was raised in Lincoln, Nebraska. After attending New York University she remained in New York to pursue a career in writing. When not writing the next Capelli & Ford mystery or for Feminine Weapon, she can be found horseback riding or reading the latest thriller.
Photographer Manuela Rana recently moved to New York City from Italy. She's the assistant to established photographer Antoine Verglas (Vogue, Elle, GQ, Forbes Magazine, Victoria's Secret) and currently enjoys working in the fashion and lifestyle photography industry.
- See more at: http://www.feminineweapon.com/millana-snow-the-calm-and-cool-project-runway-winner/1821#sthash.IVyCPi4Y.dpuf