Released on International Women's Day, 2016 at the United Nations, 'I Am a Girl' supports the Sustainable Development Goal to Achieve Gender Equality by 2030. We spoke with the beautiful voice and woman behind the song and message, Tennille Amor to find out the inspiration for the song and the stories behind the faces in it.
Watch the video:

What inspired you to write this song?
I wanted to write a song that would encourage women and girls around the world to believe in themselves and go after their dreams, no matter what obstacles they might face along the way.
How did get this footage, how long did it take? Was it specifically for the UN?
I didn't write the song for the UN, but when they heard it, they loved it, and collectively we decided to launch it on International Women's Day at the United Nations Headquarters in New York. They also asked me to perform at a number of events for the Commission on the Status of Women (CSW60), and speak on panels about Gender Equality, as well as give a Keynote Speech to youth about the importance of living their purpose. The footage for the video was gathered over the course of a few months. I reached out to my contacts around the world and tons of people submitted footage for consideration. I got a lot more than I was able to use, but tried to fit as many people in as I could! I also shot some of the footage in New York, and some in Trinidad, and I worked with my team in Trinidad to get the edit.
I got chills and teary watching this, why do you think this message is so touching? It's more than motivational wouldn't you say?
That makes me so happy to hear that! I think that when people hear the song and watch the video, no matter what age you are, you connect back to what it felt like to be a child, and to truly believe that you could be anything you wanted to be. That's why I called the song 'I Am a Girl.' I think there is so much power in youth, and maintaining a youthful mentality in life. When we get older, society often tries to make us feel like we are only successful if we follow a certain set of rules, or work along a set timeline. I have always tried to break those boxes in my work and in my life, and that is what I wanted this song to represent.
It feels like are so many inspiring stories behind some of the women and girls that are in the video… Who are some of them with stories that stick out to you?
All of the women and girls in the video have amazing stories. My business partner in E.P.I.C. (Everyday People Initiating Change), Alexi Panos, is in there. We drill clean water wells in Tanzania, Africa, and do community growth and development out there as well. Some of the girls from one of our villages are in the video. They are incredible. Pixie Lott, one of my really good friends (an incredibly talented singer from the UK) is in the video, as well as Kat Graham, Monique Coleman (from High School Musical), Megan Rapinoe (one of the US Women's soccer team players), Dr. Jen Welter (the first ever female NFL coach), Anya Ayoung-Chee (Project Runway Winner), Casar Jacobson (deaf International Entrepreneur, and Miss Canada, 2013), Madam Lakshmi Puri from UN Women, MoniCa Singh (an acid attack survivor and public speaker), Kaila Mullady (the World Champion Female Beatboxer), Ana "Rokafella" Garcia (one of the pioneers for female breakdancing). I could go on and on! The women in the video all have such incredible stories!
I'm pretty sure this song will speak like wildfire for millions to hear, what do you want other women to know about the creative process and sharing their truth like I'm sure you have here?
I think the important thing for us to remember is that if we don't embrace the journey, we will never fully be happy with the destination. Sometimes we have to just stop and be thankful for what we are doing in this present moment. It's easy to get caught up in comparison, but I think that it is important to remember that there is a unique plan laid out for each of our lives, and the sooner we embrace what makes us different from everyone else, the faster we will be able to connect to our purpose.

Anything else??
My album is coming out this year. I have collaborations with Shaggy, Mr. Vegas, Bunji Garlin and J. Ivy on there. Feel free to follow my journey on Instagram, Snapchat or Facebook. You can find me @TennilleAmor.
Also, if you want to make a trip (with us) to Tanzania this year with E.P.I.C., visit: www.epicfellowshipprogram.com
Love, Millana Snow
Co-Founder, SERENE Social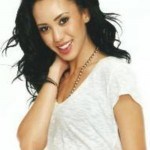 Millana is one of the co-founders of SERENE, a Reiki healer, model, tv host, and vegan foodie. You can catch her hanging out in Meat Packing in Manhattan or on Rose in Venice Beach sippin a green juice while planning the next rooftop takeover!